HYMAX® 2 WIDE-RANGE COUPLING
Hymax USA has introduced its new wide-range HYMAX 2 Coupling, the next-generation HYMAX.
Used for section replacement, HYMAX 2 connects two pipes of the same or different OD pipes and materials, up to 1.3" range.
HYMAX 2 is based on the original game-changing HYMAX that has been field-proven in millions of installations in the US:
HYMAX 2's patented flip gasket can be easily flipped in or out to accommodate different pipe OD's
Advanced no-tear gasket technology for maximum installation efficiency
Only 2 top-facing bolts = faster, easier, safer installation
Dynamic deflection of 4° per side – reducing future pipe damage
Suitable for most types of pipes – ductile iron, cast iron, steel, copper, PE, PVC, AC.
    Just flip the No-tear gasket from the inside out to accommodate larger OD pipes.
  Closed gasket position  Flip the gasket for wider range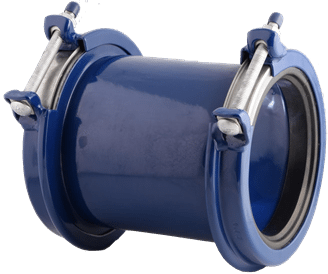 SIZES 1.5″ to 12″
Nominal Pipe Size

1.5" – 12"

Working Pressure

260 psi

Torque

SEE PRODUCT SPECIFICATIONS

Top Facing Bolts

2