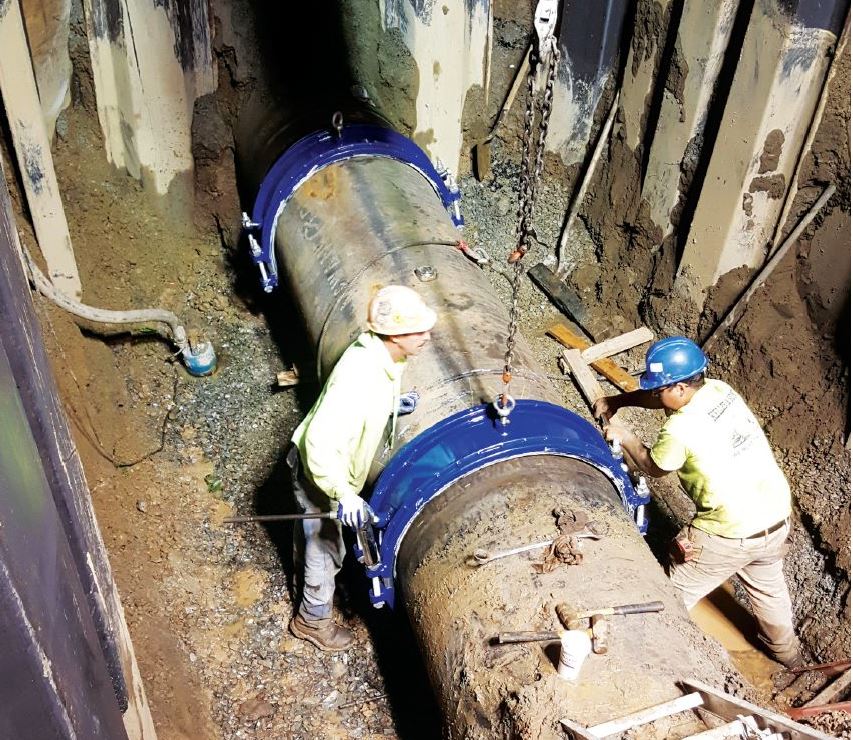 Water utilities find themselves time and again having to go back to past repairs in order to replace a coupling that failed, repair a leak that occurred due to corrosion, a break that appeared adjacent to an installation of a rigid coupling, and more. Recurring repairs are a painful phenomenon that results in wasted resources, such as products, man-hours and non-revenue water losses.
While many pipe repair couplings tout their strength, HYMAX join and restrain products take durability to a whole new level. The HYMAX lines of couplings and restraints are solidly constructed using prime materials and coatings, featuring innovative closing mechanisms, increasing the resiliency of connecting pipes against shifting ground and changing temperatures. More than that, the HYMAX products are easier to install, a feature that helps reduce installation errors, leading to proper installations that will last over the long haul.
Let's examine the issue of durability, and see how the HYMAX GRIP LARGE DIAMETER (14″-16″), a unique product in its size category, demonstrates the high durability of the HYMAX line of products.
Product Durability
A high-quality restraining solution, the HYMAX GRIP 14″/16" exerts gripping power equal to 55 tons on each side of the coupling. Made with ductile iron, it is coated with 100% fusion bonded epoxy for enhanced corrosion protection. The HYMAX GRIP 14″/16" has a patented hydraulically-assisted gasket with two-stage sealing: mechanical sealing that is effective under vacuum or non-pressure, and a self-inflated gasket that uses water pressure. The coupling also uses a unique dry treatment process on nuts and bolts with Molecular Anti-Galling (MAG) based on embedded zinc to prevent galling and enable repeated bolt tightening. The treatment eliminates the need for grease, preventing dust and dirt build-up on the bolts.
Pipe Durability
In addition to its solid construction, the HYMAX GRIP 16" makes water and wastewater pipes resilient against shifting ground by absorbing external stresses. The coupling allows for up to 4° of dynamic deflection on each end to absorb stresses caused by ground motion, reducing the risk of damage and cracking due to ground shifts and temperature changes. By installing the HYMAX GRIP 14″/16", the pipe joint is effectively transformed into a flexible connection that can help save on continuous repair costs.
Installation Durability
The product's gripping mechanism, four top-facing bolts and stab-fit design make the HYMAX GRIP Large Diameter easy to install while eliminating installation errors. The patented radial closing mechanism features a universal gripping system designed to restrain all types of metal and plastic pipes. It can hold pipes tightly in place during installation, allowing full control over the gap between pipes, and adapt to out-of-round pipe shape (up to 0.16") for an optimum fit on both ends. Compared to similar products with multiple parts and as many as 12 bolts to tighten, the HYMAX GRIP's four top-facing bolts eliminate under-digging for space to tighten bolts, and its stab-fit, one-piece design allows for easier and faster installation. All these advantages lead to faster, easier installations that are made correctly and will last over the long-term.
When it comes to toughness, there are few pipe repair products that can compete with the HYMAX GRIP 14″/16" and its product, pipe and installation durability.
Contact your local representative now to find out how HYMAX products can deliver permanent repairs for your utility