HYMAX® 2 COUPLING with flip gasket
Hymax USA is proud to introduce its new wide-range HYMAX2 Coupling, the next-generation HYMAX.
Used for section replacement, HYMAX2 connects two pipes of the same or different OD pipes and materials, up to 1.3" range.
HYMAX 2 is based on the original game-changing HYMAX that has been field-proven in millions of installations in the US:

HYMAX 2's patented flip gasket can be easily flipped in or out to accommodate different pipe OD's
Advanced no-tear gasket technology for maximum installation efficiency
Only 2 top-facing bolts = faster, easier, safer installation
Dynamic deflection of 4° per side – reducing future pipe damage
Suitable for most types of pipes – ductile iron, cast iron, steel, copper, PE, PVC, AC, GRP
Product performance, OD range and pressures are identical to those of the original Hymax
    Just flip the No-tear gasket from the inside out to accommodate larger OD pipes.
  Closed gasket position       Flip the gasket for wider range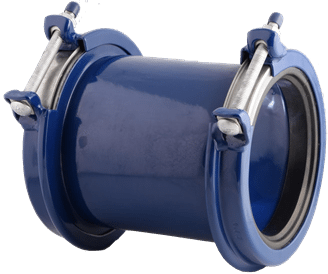 For HYMAX product specification sheets and product installation instructions, click the download links on this page.
Want your team to learn more about new HYMAX 2? Order a Lunch N' Learn free educational session at your location.
For more information about our products, please contact HYMAX or your regional Hymax sales manager. 
                               SIZES 2″ to 12″