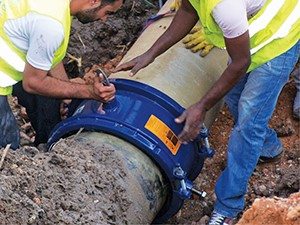 As technical support manager for Hymax, I see US municipalities and water utilities struggling with budgetary restraints, even as their water and wastewater infrastructure is deteriorating.
In the interim, utilities make pipe repairs until a long-term solution can be financed and implemented. The question of when it makes the most financial sense to replace pipe versus repairing it is not simple. Short-term low cost pipe repair may seem attractive, but repeated repairs aren't economical. With hard work, the long-term benefit of reliable service will last for decades.
When making the decision for well-crafted repair versus replace, consider the following factors:
Cost: Ultimately, repeated repairs outweighs the cost to replace the pipe; if crews are repeatedly visiting the same section of pipe, this is the first clue that the pipe may need to be replaced. Service interruptions will cost in the long term.
Customer complaints: Customers dictate the response a utility takes when water or wastewater problems arise in their neighborhood. Unreliable service equals customers expecting a dependable solution, minimizing service interruption.
Data: Economical choices need relevant data. Keeping records, carefully examining repair data, and noticing trends lead to sound decisions on pipe repair or replacement. Accessible data is paramount. With solid field data, neighborhood residences and businesses contribute to accurate water and wastewater pipe repairs in the area.
Six simple questions to gather data:
– Who made the repair?
– What was the issue and what actions were taken?
– When was the repair made? Be accurate with day, date, and time.
– Where was the repair?
– How often have crews been to similar locations?
– Why is the pipe breaking? Note if it's a one-time incident (e.g., Gas Company boring into the ground pipe) or repeated cause.
Consider external forces (ground movement, trains, heavy traffic). How was the repair made? How much did it cost? Was it quality work?
Put these questions to each repair to detect trends, making it possible to predict future repairs.
After reviewing data and cost, utilities can determine whether to move forward with replacing the pipe.
Form a strong construction committee to supervise and review the entire project. For public utilities, the committee includes at least one municipal council member, who communicates updates, critical to the rest of council. Other members include a finance officer; lead engineer and assistant; public works director and assistant; project inspector and customer.
The right team is crucial to proper planning. Follow-up meetings through e-mail, Skype, and other communication tools keep everyone in the loop.
Media and local officials contact (e.g., public works, engineers, and inspectors) keep the community apprised of any activity. Ensure a physical review of the entire site, including photographs and video before construction starts to help manage potential claims. Combine this with daily written reports, noting changes made.
Consult engineers as often as needed. Inspectors know the rules and regulations and help ensure project approval. Choose good products and work with responsible contractors.
Your utility will likely have varietal specs. Make sure products are backed by other local professionals and your engineer. It pays to use high-quality products that are exceptionally durable—even in harsh conditions—and designed to prevent future pipe damage.
Differentiate between the lowest responsible bidder and the lowest bidder. The lowest bidder might leave things out of their bid, changing the order, leading to higher budget. Due diligence, including references, is necessary when choosing the right contractor.
A realistic and fair schedule is another important factor. Customers expect the least-disruptive schedule. Your contractor wants a tight schedule, to meet the scheduled completion date. Be realistic and communicate with your team regularly, especially during construction changes.